Personal Information
First & Last Name:
Doru Mayonaka - Doll Midnight
Age:
14
Eye color:
Hazel
Hair color:
Blonde | Rainbow Tips
Weight & Height:
4'9 | 101.0 (Punds)
Appearance & Clothing:
Doru is a gothic girl, she wears her clothing mostly black. From top to bottom I will start. She had a black hat with a Gold and Black colored CD with a red ribbon on it below. She had her hair with bangs blonde, and she had her tips rainbow colored. She had Black and Gold dangle earrings that she wore almost every day. She had her collar black, with also a red ribbon on the middle. The top she had is also black, which had exactly four buttons into the middle, also some frills through both left and right and also below. She wears a black puff skirt with red highlights. It had red ribbons to keep the black part upside. And the second layer to the bottom has a piano pattern. As for the shoes, she had black socks that does not exceed through her knees. She wore black shoes with 2cm heels with red highlights that glow through the night. She wore black gloves that was partnered through her black socks.
Special features:


Her Bunny - She had that everyday on her left hand. She mostly talks to it like a weird and crazy girl. She held it either to its right ear or its right arm. She said to them that if she losses it, she will surely weaken.

Her clothing - She had alot of those outfits on her wardrobe. Her outfit could be either formal or casual. However she wore these everyday.

Origin and family
Origin:
Doru came from a different and distant country. She came from a wealthy family and lived in a mansion. Her family is always bright and jolly, however she always ruins the emotes.
When she grew 14, her parents decided to let her go and traveled on Yorknew City where she had stayed for a little while on a Condo. And Doru was still, till' now living there.
Family & close People:
-Mom - This is her mother, She is loving and caring to her daughter, Doru. She might be overprotective sometimes but she would still take care of her '
Doll
'.
-Dad - This is her father, He is strict and frugal. And mostly is misunderstood.
-Step Mom - This is her stepmom. Well, her stepmom.
Personality
Personality & Behaviour:
Doru is a Yandere but she would keep her pace up to her act. She is quiet and proud. Sometimes, people hate her for her attitude. She is a fast-learner, or mostly called quick-learner. She is a bookworm, meaning she could read books faster than anyone else. She is always Active and Alert for all the things that happen around her. Keeping Calm is one of her attitude. No matter what happens, she would still keep her pace up. She is Clever and Genius. She got that from her father when she was born. She could be trusted at most times, the answers she could give you are only three, when you request her something. She will only say.
Yes, No and Wait
. Being like that, she calls herself a 'Rival'. She wanted to beat everyone else so she could be at the top.
She is Cold towards people as if she was a loner. She was a Virtuoso who has her golden flute hidden inside her stuffed bunny toy. She is very careless to things she isn't interested in. She is stubborn mostly all the time. And she could not accept things that she hated.
Strengths & Weaknesses:


Music - She gets positive when she hears good music. She hated rock n' roll music and she would like to hear harmony and plays other than rock and bands.

Candies - From negative to positive happens when she eats Sweets. She had a sweet tooth for some sort.

Rivals and Competitions - Hearing the word 'battle' fires her up and strengthens her. However she would get stressed out and obsessed when she losses.

~~~~~


Her Bunny - As mentioned from above. She could not go on when her stuffed bunny toy wrecks or dies.

Goals:


Be Hidden - When she became famous and strong, she wishes herself to disappear even though she was still alive. She would like to hear myths and stories about her on what happened when she disappeared.

History
Said from above. She was born in a wealthy family. She was born jolly and happy after an accident came. She had her father cheat on her mother, so they divorced. Even though Doru wanted to be with her mother, they all disagreed. By that day, Doru started to wear black. The reason that she started to hold the bunny stuffed toy because it was given by her mother when she was still young. Her mother left, it was a sad day for her. Who wouldn't want her beloved mother leave? As Doru was wealthy, her stepmother gave her a golden flute after they knew that Doru was a Virtuoso.
Doru has mostly been misunderstood and angry. One day, a set of thieves came to her mansion to rob. Doru was scared, but soulless at the same time. A bunch of when tried to open the door on Doru's room. Doru sneaked up below her bed, get a shoebox, and hooked up with an axe. Although Doru was reckless, but what she did was get a toy axe and scared the thieves away as she came on singing Kagome Kagome. Awfully, no one even knows what she had been reading alone on her room. It might had been influenced her a bit, and who knows what will happen when some kids had broken families?
Whenever she was alone, she would rather read and finish a thousand pages books, perfect and finish a song using the flute, or maybe she could talk to her own stuff toys and have a tea party with them. Some kids call her insane because of how she dresses and how she held her stuffed bunny that she always bring around the corridors.
After scaring those men, she placed a ribbon on the axe and started playing with it. One time she went to the police station, the people sat her there as they thought that the axe was real, which is literally creepy for people who doesn't know if it was real or not.
Singing her favorite songs, she like singing Kagerou Daze, which is full of blood on the PV. And Karakuri Pierrot, which is full of sadness and sorrow. Singing Alone is also one of her favorite songs because it symbolizes herself by the line 'Please calm me down by saying "Don't cry"'. She only likes songs which had a lot of meanings beneath it. As she hated rock and roll, she had a taste of music for pop.
A lonely world and a lonely girl, she said that to her once. It was kind of having pity for herself just by being alone and have a tea party with her unreal friends. She thinks that fate is an evil sorcerer who plays with her feelings... and herself.
One day, because her family was rich; her father made Doru's cousin her fiance. Doru is unflirty, but the boy she had relationship right now is a total Hopeless Romantic and a Playboy. Saying the Word PlayBoy hurt Doru the most because he indeed 'Well Played' on Doru's feelings. Doru tried to kill the boy, however, it never succeeded. Her father cancelled their relationship right after what happened. The boy promised to stay away from Doru ever since.
Doru hated her name for it was pronounced commonly as 'Doll'. And now she has changed it to Kirai, meaning hate. However, nobody knows about what is happening about her name right now. Even though Doru is like that. Everyone still accepts her the way she is today. By her attitude, her father and her step-mother sent her to York New City to stay there for a couple of years to avoid murdering that happened when she was still in her mansion inside.
Character Image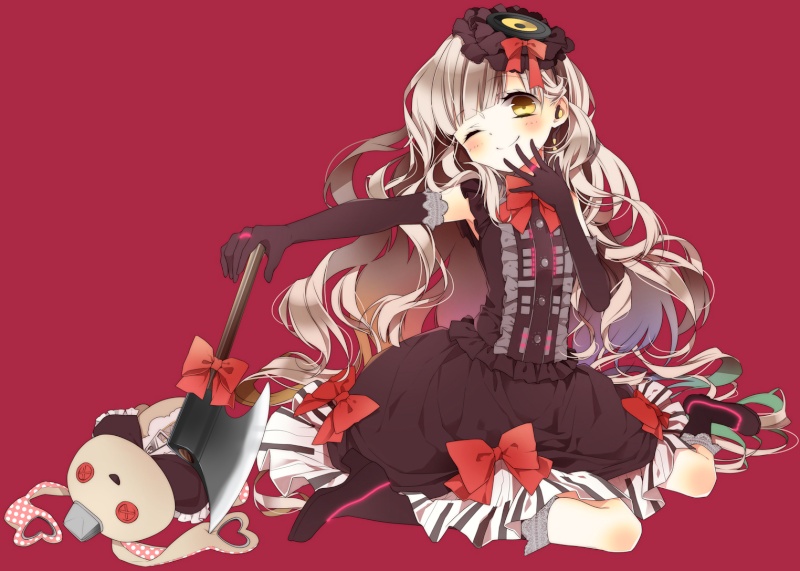 Avatar origin
: MAYU - Vocaloid
Writing Sample
Walking around silently as she poker faced. It was not hard for her to keep silent as she walk around since she is already used to being alone with her dolls. Unlike on her room, she could use any props to use as fake tea parties. But in this place, It's boring. From the time she was still walking around, people started to stare at her for how she was dressed as black. Doru only did was look for them creepily as she smiled correctly as how she decided it to be on her mind. While she was walking, people started to make way for her like as she was still a Noble.
Stopping in the middle of the pathway, the people we're surprised to see her talking to a non-living thing. "Now, Bunny..." Doru looked to her doll as she placed it in front of her. "What would you like to eat?" Doru asked the doll while staring at it insanely. People we're horrified to her attitude right now and how she was acting. Doru placed the Bunny's mouth onto her ear as she nodded. "Macaroons are sweet too..." She explained. "I know a cafe nearby. They had pastries and candies." Doru started walking up to the pathway as she continued to chat with her 'doll'.
Entering the Cafe, Doru had a lot of amount of cash in her pocket right now. Doru forced herself to act nicely and kind to the cashier. "Yes mistress... what can I help you?" The cashier questioned Doru as she smiled kindly. "Buying 2 boxes of macaroons please..." Doru said as she gave the cashier lady the cash she would have payed. The boxes of macaroons are already settled and was quick before Doru would have sat down for a while.
They already reserved a table for two of them, it was quite a royal place only for those two.
Doru was eating only the black and red macaroons. She gave the pink ones to her doll... Doru already finished eating all of them, while her bunny won't even open its mouth to eat... "Bunny, it is bad to waste food." Doru tried talking to it, but it won't reply... "Oh yeah... I stitched your mouth... I will eat it instead, for you." Doru took the pink macaroon on the bunny's plate and ate it instead.